First of all, I had SO much fun participating in Mug Swap 2013. So a huge thank you to
A Cuppa Kim
for putting this amazing thing together!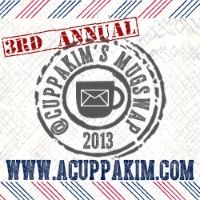 I was assigned the adorable
Traci
and had such a good time secretly stalking her blog and Instagram account! Although I'm not the greatest at keeping surprises, so it was really really hard to not "like" all of her pictures. :)
Traci's list of favorites was quite extensive (which I loved!) so I had plenty of ideas when it came to picking out her goodies.
She mentioned that she loved hymns and that her favorite is Great is Thy Faithfulness, so I just knew I had to whip up a little handmade something for her.
(I've had people ask after they saw my sneak peak on Instagram and yes, I do sell prints of my handlettering through my etsy shop, however they are not available at the moment. I am re-stocking and hope to list several new prints soon.)
Traci also said that she loves bicycles and birds, so when I came across this cute little notebook I knew it would be perfect for her. As for the mug itself, the one I picked didn't fit into any of her favorite things, I just really liked it and had a hunch she would too. :)
I threw in a couple yummy treats of caramel wafers and Nutella, and topped the package off with a little love from the Pacific Northwest.
It was so much fun to shop for Traci and I was thrilled when she received her package in one piece and said she loved it!
I was so excited when I came back from a little trip to the beach to find this super cute package waiting for me! It was from
Sarah
, who put together the most wonderful collection of goodies for me.
I knew it was going to be a good package when the first thing I pulled out was a hand-written note, folded old school style. I don't think I've seen one of these since the 7th grade. :)
Sarah packed my box full of the most thoughtful things including a beautiful mug, Starbucks VIA coffee, adorable silverware and napkin, paper straws, coasters and a handmade bookmark and crepe paper banner! She definitely spoiled me and I love every bit of it!
How cute is that paper garland? I have big plans to use it in Amelia's room! And that mug is pretty much perfect. It's beautiful and delicate but still holds a lot of coffee!
So. Basically the entire swap was the most fun thing ever. I loved shopping for my partner, getting a fun package in the mail and making two new friends in the process. I can't wait to sign up again next year!